So Just Who Is Doc Mehl?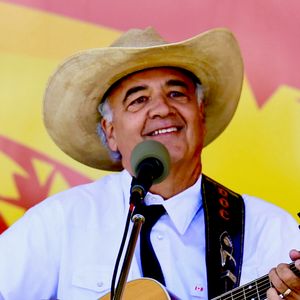 Newly transplanted from Colorado to Black Diamond, Alberta, Al "Doc" Mehl traces his family roots to central Kansas, where his grandfather raised six children on the family homestead.  With one foot in the past and one in the present, Doc weaves the history and the mystery of the West into his original "west-clectic" poetry and music.  His debut music CD is titled "Asphalt Cowboy," and his second music CD titled "I'd Rather Be…" was released in 2008.  Doc Mehl has also published a CD of original poetry titled "Cowboy Pottery," and a second spoken-word poetry CD titled "The Great Divide,' named 2013 "Cowboy Poetry CD of the Year" by both the Western Music Association and the Academy of Western Artists. In 2020, Doc published his first collection of poetry, "Good Medicine: Read Two Poems and Call Me in the Morning." And in 2022, Doc released two new CDs of music, "West of the 22" and "Tried and True. You can also find Doc hanging out with the inimitable Washtub Jerry on their duo live album, "Doc & Tub, Live!"  

Doc's poems and musical lyrics have been featured on the website www.CowboyPoetry.com, he has been published in the poetry journal "Rattle," and he was a first-place silver buckle winner at the National Cowboy Poetry Rodeo in Montrose, Colorado in 2009.  In the words of Rick Huff (as published in The Western Way magazine), "There's a unique mind at work here that may be one of a kind in the Western Music arena…He'll make you laugh and then suddenly think, laugh some more, and then cry.  Don't strip your gears!"  Catch up with Doc someday soon, either in concert or through his recordings.  You won't regret it.
Up Close and Personal… Doc Mehl Live on Stage.
Time to try a little taste of Doc Mehl, live on stage!  You'll need no cash for a ticket, no money for a baby sitter, no change for the parking meter.  Just click on the video links and enjoy!  Doc Mehl is here to entertain you with his "west-clectic" songwriting, a unique brand of contemporary western music and rhyming spoken word. Sit back and put another log on the campfire.. it's time to be entertained.
"I'd Rather Be…" - Written and Performed by Doc Mehl 
 "Stupid Dog" - Written and performed by Doc Mehl
 "Fence Posts Made of Stone" - Written and performed by Doc Mehl
"I'm Sweet on Barbie" - Written and performed by Doc Mehl  
Who's Doc Been Hanging Out With?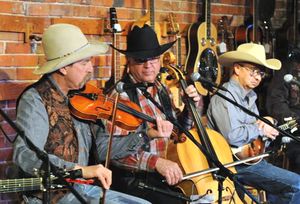 Doc's stage performances feature his thought-provoking (and occasionally side-splitting) cowboy poetry, and spotlight his unique "west-clectic" songwriting and soulful guitar.  But you'll also find him up on stage or down by the campfire, playing a jam-session-like counterpoint on the western cello alongside performing artists Pop Wagner, Liz Masterson, Evelyn Roper, Jim Jones, Patty Clayton, Bill Barwick, Juni Fisher, Rex Rideout, Mary Kaye, Jon Chandler and the Wichitones, the Yampa Valley Boys, Miss V the Gypsy Cowbelle, and even Riders in the Sky.  And you haven't really tasted contemporary western music at its finest until you've seen Doc Mehl up on stage with Washtub Jerry!  Just click on "Doc & Tub" to learn more about this entertaining duo.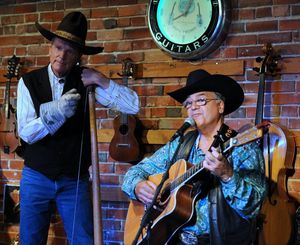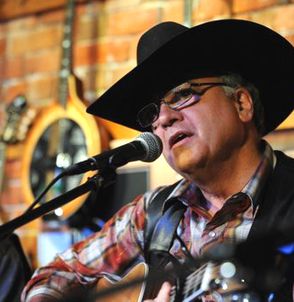 Folks are often asking, why the nickname "Doc?" 
Sure, it has a nice "Western" sound to it, but couldn't there be more to it than that, folks seem to ponder.
So, take your pick of the reasons shown below.  Doc attests that all of the following are true (but then sheepishly admits that the real reason folks call him"Doc" may not even be on the list):
1.  He's pretty good at treating foot-rot.
2.  He has tended to more than a few living creatures in his day. 
3.  He usually knows what to do about a toothache.
4.  He's counseled a drunkard or two over the years.
5.  Friends started calling him by that name years ago when he was still in school, and it kinda stuck.
6.  When it comes to vaccinating, he's a believer.
Catch Doc at a jam session sometime after midnight, and he might just spill the beans about the nickname.  Then again... he might not.
Things Folks Say About Doc (...In Their Weaker Moments)
If you've ever wanted to be a cowboy... then you need Doc's CD.  If you're one of those unfortunate people that are corralled in an office or hobbled by concrete, Doc's music will slip your halter and set you free.
Marty Blocker - Cowboy Poet
Doc is a hoot and a holler.  Just when you think his fries have been left out of his Happy Meal (in a good way), he whacks you over the head with a verse that leaves you stunned.  What a delight his songs are, and what a joy it is to hear what Doc Mehl has to say!
Juni Fisher - Singer/Songwritier
With only a touch of nostalgia, this cowboy talks about today.  With wonderful original tunes, harmony, plucking, great rhythms, and surprises (cello and coronet in cowboy music??!!), Doc Mehl reaches your soul, and speaks to the private person within.
Ed McAuliffe - Audience Feedback
Listening to Doc is like having Lyle Lovett in one ear and Tommy Smothers in the other.
Jon Chandler - Singer/Songwriter
Refreshing, original, witty, and loaded with clever wordplay about contemporary cowboy life.  No clichés here, every song is a winner from a phabulous, phree-wheeling asphalt cowboy.  "Welcome to the Whine Bar" has more wisdom and wit in it than a bottle of cheap chardonnay, so you've already saved yourself twelve bucks.
Doris Daley - Cowboy Poet
There's a unique mind at work here that may be one of a kind in the western music arena.  Doc's perspectives are consistently literate and wry, perhaps justifying calling him a "Twain of the Refrain." He'll make you laugh and then suddenly think, laugh some more, and then cry.  Don't strip your gears!
Rick Huff - Western Way Magazine
I bought Doc's CD just for "Stupid Dog," but now I'm enjoying all of the tracks.  I played it for some friends and we were cracking up over "Welcome to the Whine Bar" and "Asphalt Cowboy."  Doc's recordings are a great addition to my growing collection of cowboy artists.
Mike Moutoux - Cowboy Poet
One hysterically funny genius… and a darned nice fellow, too!
Deb Bukala - Singer/Songwriter
Only a poet could believe that matching up rhyming sounds like errant socks is a divine calling.  Doc Mehl's original cowboy poetry takes its rhyme and metered structure sort of serious ("rhymin' holds the ear" - true enough…) while winking at the whole business along the way.  I'm happy to see this cowboy poet knows that putting tongue in cheek is more than just about situating the tobacco chew.
Eric Ottem - Audience Feedback
Doc Mehl's poetry held my attention much like an old-time radio show. His mastery of words, whether describing everyday scenes or relating stories from his family's past, left me in awe of his ability to transport me to another place and time.
Jeri Dobrowski - Western Journalist and Photographer
I was acquainted with Badger Clark back in the early 1940s and heard him read his own work.  Having known him, I think he would be tremendously pleased to acknowledge Doc's work in the tradition that he helped to establish.
Clark Couch - Cowboy Poet
An exquisite style of perfect structure, rhyme, meter.  A winding of words onto a verbal canvas filled with imagery.  Well done!
M. Tim Nolting - Cowboy Poet
You don't hear music like this every day, and it's too bad.  It's light, humorous, sometimes makes you think (oh God, no!), and just plain fun to listen to.  Me, I just keep going back to "Stupid Dog."  I guess we've all had a dog, or at least a pet, like "Stupid Dog."
Vic Anderson - Western Entertainer
Doc is one of the wittiest, original, intelligent, entertaining and most thoughtful of the bunch.
Gary McMahon - Singer/Songwriter
Height somewhere between 5-11 and 6-1, build somewhere between paunchy and heavy set, hair somewhere between graying and receding, facial hair somewhere between clean-shaven and stubble, last seen dressed in a black hat and black vest with a salad plate-sized silver belt buckle, carrying a guitar under one arm and a cello under the other.  Believed to be unarmed but nevertheless dangerous.  Headed west.
Corrales, New Mexico, Police Blotter